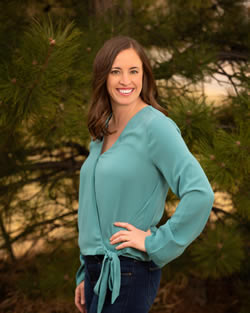 I am a Licensed Professional Counselor in the State of Colorado.  I obtained my B.A. from University of Vermont in 2004 and my M.A. in Psychology from University of Denver in 2009.  I became licensed in 2011.  I am certified in EMDR therapy through Eye Movement Desensitization and Reprocessing International Association (EMDRIA), and am working as and EMDRIA Approved Consultant-in-Training.
I became interested in counseling after teaching High School in Massachusetts when I realized I enjoyed the one-on-one supportive relationship I had with my students and their parents.  As a graduate student in 2008 I began my counseling career working with both adolescents and adults in the criminal justice system.  There, I saw how complex trauma, dysfunctional family systems, and systemic problems contributed to mental health issues and created serious consequences for both the individual and society.  Following graduation I decided to focus my professional career on the impact of trauma, both systemically and for the individual.  Over the next 9 years I worked in non-profit agencies, gaining a great deal of experience with clients of all ages and moving into supervisory and management roles.  I eventually ended my work in the non-profit sector after three years as a Clinical Director, overseeing the clinical services for 100+ children and families.  I now provide therapeutic services in private practice as part of the counseling team at Greenwood Counseling Center.  Currently, I hold a number of positions beyond my private practice  I am an adjunct faculty member of Regis University, teach for Parenting After Divorce, and work part-time to provide trauma counseling for Police and First Responders.
My work as a counselor for 10+ years has led me down many paths and provided the opportunity work with a wide variety of clients and presenting issues.  I work with adults, adolescents, and couples to help improve overall functioning and achieve an increased sense of peace, balance, and happiness.  Depending on client need, I pull from a variety of modalities including Eye Movement Desensitization and Reprocessing (EMDR), Dialectical Behavior Therapy (DBT), Cognitive Behavioral Therapy (CBT), Narrative, Solution Focused, Motivational Interviewing, Trauma-Informed Care, and Positive Psychology.  I have additional training and experience in areas such as Attachment, PTSD, Anxiety, Treatment of First Responders, Dysfunctional Family Systems, Mindfulness, Neurobiology, Somatic Interventions, and Parts-of-Self Work.   Everyone is unique, and therefore at the beginning of treatment I partner with my clients to create a treatment pathway that is individualized and in line with their personal goals for counseling.  Depending on your needs, our therapy sessions may include the reprocessing of traumatic life events, building and strengthening emotional resources (coping skills), enhancing resiliency, processing thoughts and feelings, building insight, enhancing self-compassion, exploring relationship patterns, improving boundaries, and/or exploring your identity.  I am LGBTQIA+ affirmative.
About Me:
Born and raised in New England, I never felt like I had found my true self until I moved to Colorado in 2005.  Here, in beautiful Colorado, I endeavor to live my life to the fullest by incorporating a more holistic approach to being.   Outside of my chosen profession, I enjoy yoga, snowboarding in the winter, rafting in the summer, cooking for friends, and spending time with my husband and daughter.  I love coming to work, but I also try to live a balanced life that includes enough time for rest, play, self-reflection, learning, laughing (a lot) and sometimes getting lost on purpose.  I feel privileged to do the work I do, and grateful for the opportunity to witness the strength of the human spirit as it almost always shows up in the counseling process.  If you think we may be a good fit, I look forward to talking with you about how I can support your growth.